Our first commercial installation – Langham, London
At River Bespoke we specialise in the creation of handcrafted bespoke feature walls from individual shelves. We're all about simple, clean, elegant designs; living wall art that is ever-changeable as well as functional, adding interest to any space.
A commercial commission
To date we have focussed on residential installations, but we've always said our bespoke feature walls would work equally beautifully in a commercial context. And now we've been able to prove it thanks to a commission from the world renowned Palm Court, Langham Hotel, London.
Palm Court, if you're not familiar, is famed as the place where the tradition of afternoon tea was born over 140 years ago. The bar is the impressive centre-piece of the hotel, an enchanting world of elegance and glamour entered through hand-crafted iron gates.
The brief: A luxurious yet functional feature wall
The Langham wanted a unique and eye-catching backdrop for their champagne bar, that would look stunning but also work to provide much-needed storage and display capability for a busy, customer-facing area. We worked closely with the Langham Hotel team to design the layout, materials choices and finishing touches. With ambient lighting, wallpaper and antiqued mirrors, we have helped them to create a truly beautiful area to compliment the luxurious Palm Court. For more images view our gallery.

The verdict: "A beautiful champagne bar that fits the bill perfectly"
"We have been wanting to update the bar in Palm Court for some time and were looking for something different and special, River Bespoke's shelves fitted the bill perfectly. We now have a beautiful champagne bar completing the stunning Palm Court. River Bespoke were very easy to work with from the initial concept, design and renders to working with our team to install the shelves on the day. Fitting was easy and flawless. Thank you River Bespoke."
Karina Ellias – Director Food and Beverage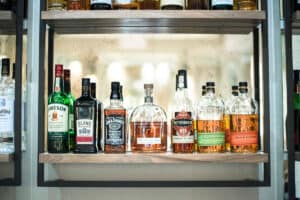 A word about the situation we find ourselves in
It's going to be a quiet and difficult time for interior designers and bespoke furniture makers, but these times will pass, and the world will return to normal far better prepared than ever before. We can take this time to reflect on our interiors and be doing all we can to exit this isolation period with smarter redecorated houses and businesses.
Contact us for more information or to find out how we can help transform your home or commercial space with a bespoke feature wall made from stunning shelving.
E: [email protected] | T: 07572 868549